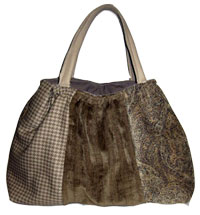 Frugal and Fabulous
is hosting a giveaway of a handbag from
M. Avery Designs
. The prize is a shoulder bag from their
Green Line
, the eco-friendly line of accessories made from upholstery fabrics. To enter, go to
M. Avery Designs
and select your favorite from their bag selection. Than post a comment
here
. You have until Friday, March 27 @ 7pm EST to enter! (*
winner must contact Frugal and Fabulous within 48 hours
!*) To earn extra entries, check out the web site.
%*%*%*%*%*%*%*%*%*%*%*%*%*%*%*%*%*%*%*%*%*%*%*%*%*%*
If you'd like to win a set of the new Febreze Destinations Collection products including Air Effects, NOTICEable, and a candle, head over to
Rockin Mama's
. Comments will close on April 5, 2009 at 10 PM PST. The Febreze Destinations Collection offers three great fragrances inspired by scents from around the world - Hawaiian Aloha, Brazilian Carnaval and Moroccan Bazaar. You can check them out
here
.